Enjoy tasty pub favorites including our signature East End Eggrolls, burgers, sandwiches, apps, and American pub craft beer!
Phone
(681) 265-3825
LOCATION
2445 Washington St. E.
Charleston, WV 25311
Hours
M-Sa 11a–11p
Su 12p–8p
Located on the east end of Washington Street at the corner of East Avenue in the beautiful capital city of Charleston, WV.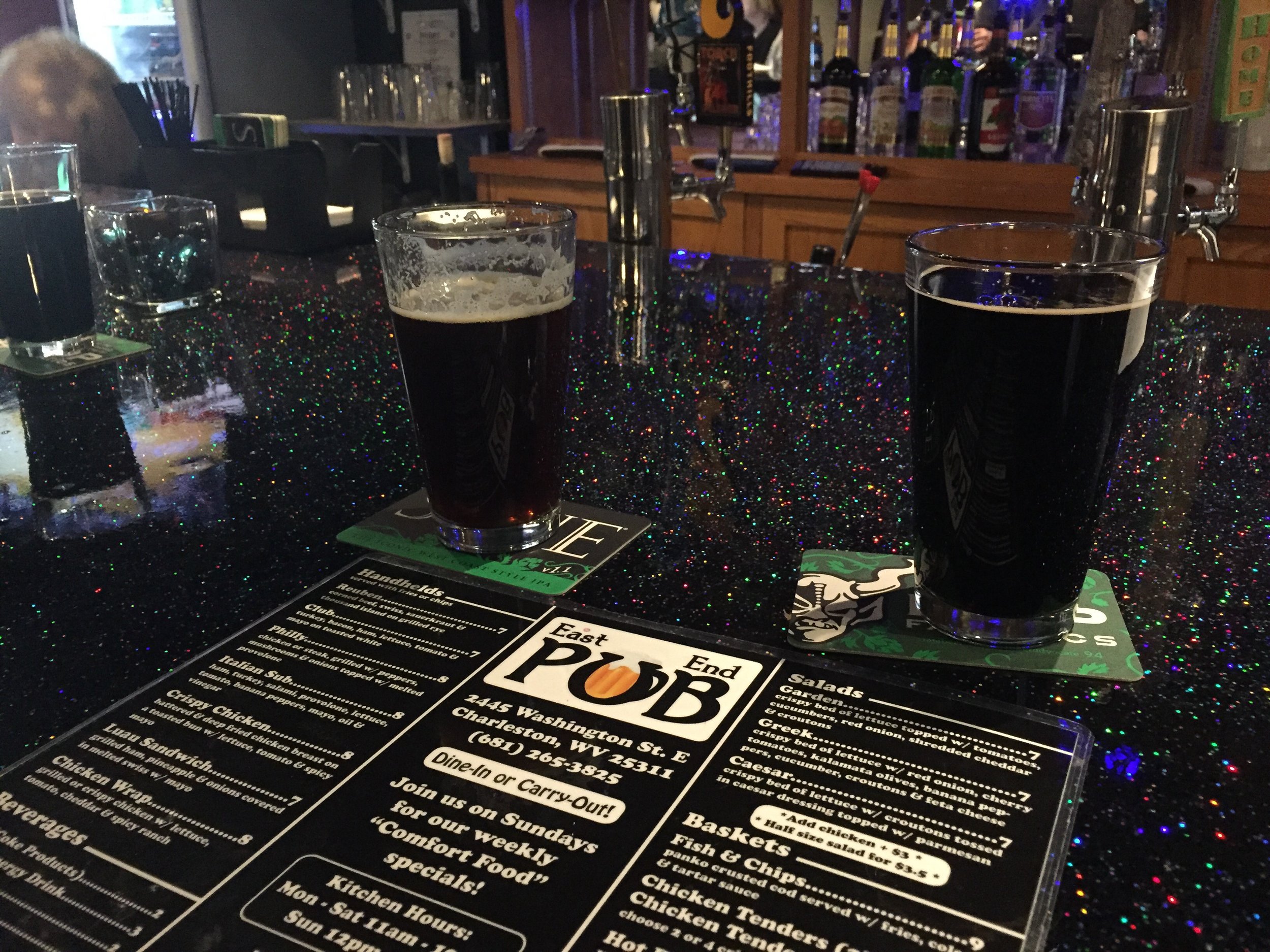 DRINKS
Our ON TAP drink list changes frequently and this menu is updated accordingly.
ON TAP
Mango Cart
(Golden Road Brewing. 4%)………5
Company Kölsch
(High Ground Brewing, 5%)………5
Shotgun Wedding
(Country Boy Brewing, 5.3%)………5
Passion Fruit Kolsch
(New Belgium Brewing, 4.3%)………6
Voodoo Ranger Juicifer IPA
(New Belgium Brewing, 7.7%)………6
Pabst Blue Ribbon (4.7%)………2
FLIGHT OF FOUR………7
Pitchers available
CRAFT
Big Timber ForestFest
Oktoberfest………6
Big Timber IPA………4
Cougar Bait (Country Boy)………4
Elysium Spacedust………4
Golden Road Wolf Pup………4
Yuengling………3.5
Spiked Seltzer………4
Terrapin Hopsecutioner………4
NB Fat Tire………4
Blue Moon………4
Wild Trail (Greenbrier Valley)………4
Devil Anse (Greenbrier Valley)………4
Sam Adams Boston Lager………4
Corona………4
Citrus Tsunami (Parkersburg
Brewing)………4
Lagunitas IPA………4
Angry Orchard………4
Blonde on Blonde (Parkersburg
Brewing)………4
Exodus Porter (SweetWater)………4
DOMESTICS
Bud/Bud Light………2.5
Mich Ultra………2.75
Miller Light………2.5
Coors Light………2.5
PLACE AN ORDER
Call (681) 265–3825
11a – 11p M-Sa, 12p-8p Su